RECOMMENDED GIGS
THU, 10 DEC 2009, Nacho Jase Open Mic @ The Portman, Boscombe
FRI, 11 DEC 2009, The Juju Men @ The Portman, Boscombe
THU, 17 DEC 2009, Nacho Jase Open Mic @ The Portman, Boscombe
THE PORTMAN SPRINGS BACK INTO LIFE 11th December 2009
After so many months, or is it years(?), the Portman Hotel springs back into life as a Live Music venue. Remember the magical days of the Green Room (located in the Portman Hotel)? Remember all those strangely named bands and the weird and wonderful alternative music they created? Perhaps this unique and eccentric music scene is about to rise from its own ashes. It is for this reason that I would strongly recommend that you attend an evening of 'music from the primeval swamp' supplied by none other than Bournemouth's very own authentic garage retro R'n'B band,
The Juju Men. This event takes place on Friday, 11th December 2009.
Support live music. Watching paint dry on TV is no substitute. Yes, I know that Ashley Road, Boscombe, where the aforementioned alehouse is located is currently a gigantic roadworks, and is likely to remain so into the foreseable future. What the hell, The Portman is open for business a usual, and so is the car park. Anyway, better to walk and/or travel by bus and make a real session of it.
I would suggest travelling by train but sadly, Boscombe station, just over the road from the pub, was thoughtlessly closed by the powers that be, way back in the age of steam.
The Portman Hotel, 97 Ashley Road, Boscombe, Bournemouth, BH1 4LT
Tel - 01202 397114
EVERY THURSDAY @ THE PORTMAN December 2009
Don't miss Nacho Jase Open Mic Session,
every Thursday night in the Green Room @ The Portman.
See poster below for full details -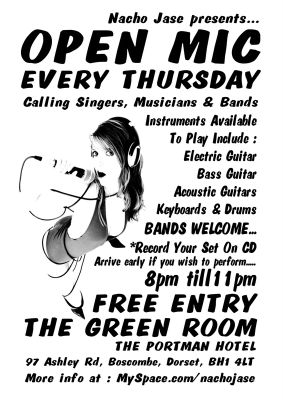 Nacho Jase Open Mic Session @ The Portman